The dielectric material in RG6 75 Ohm coaxial cable serves a critical role in maintaining the cable's electrical performance. Here are its primary functions:
1.Insulation:
The dielectric material within RG6 75 Ohm coaxial cable serves as a robust insulator, strategically placed between the central conductor and the outer shielding. This insulation is paramount as it prevents any direct contact between these conductive elements. By eliminating the risk of short circuits or unintended electrical connections, the dielectric material ensures the cable's operational safety and reliability in various environments.
2.Maintaining Impedance:
The dielectric material plays a pivotal role in determining the characteristic impedance of the RG6 cable, a fundamental electrical property measured in ohms. In the case of RG6, the characteristic impedance is precisely 75 ohms. This specific impedance value is crucial for impedance matching in high-frequency applications. By maintaining a consistent impedance level, the dielectric material enables efficient power transfer and reduces the risk of signal reflections, ensuring seamless communication between connected devices.
3.Signal Propagation:
An essential function of the dielectric material is to regulate the velocity of signal propagation within the cable. Different dielectric materials have varying propagation velocities. The chosen dielectric is engineered to allow signals to travel down the cable at the optimal speed. This ensures that data transmission occurs accurately and efficiently, particularly at higher frequencies where signal integrity is paramount.
4.Minimizing Signal Loss:
The dielectric material significantly influences the attenuation characteristics of the cable. Attenuation, or signal loss, occurs as the signal travels along the cable's length. A high-quality dielectric material with low loss properties minimizes this attenuation, allowing the cable to transmit signals over more extended distances without significant degradation. This attribute is vital for applications where maintaining signal strength over extended cable runs is essential, such as in large-scale broadcasting or telecommunications installations.
5.Mechanical Support:
Beyond its electrical properties, the dielectric material provides crucial mechanical support within the cable structure. It acts as a spacer, maintaining a consistent separation between the central conductor and the outer shield. This physical support ensures the cable's structural integrity, preventing deformations, kinks, or damage that could compromise its performance. The dielectric material's role in preserving the cable's form is essential for durability and longevity, especially in installations where the cable might undergo bending, twisting, or other mechanical stress.
The dielectric material in RG6 75 Ohm coaxial cable serves as a multifaceted component, providing insulation, impedance control, regulating signal propagation, minimizing signal loss, and offering essential mechanical support. Its careful selection and engineering are fundamental to the cable's reliable and high-performance operation in a wide range of professional applications, including telecommunications, broadcasting, and audio-visual systems.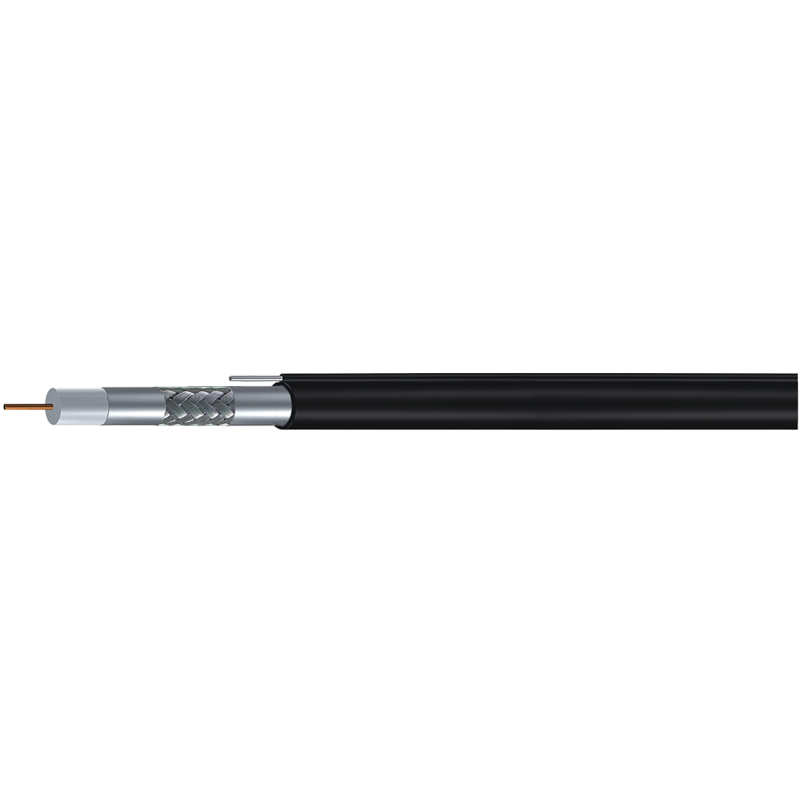 Center Conductor Minimum Break Strength: 65.3kgf/33.5kgf
Center Conductor Bond to Dielectric ≥2.3kg
Messenger Minimum Break Strength: 77.1kgf
Jacket Longitudinal Shrinkage ≤5%
Operating Temperature (PVC): -40°C~80°C
Operating Temperature (PE): -55°C~ 85°C