The 500 540 Trunk Coaxial Cable is commonly used in various applications within the telecommunications industry due to its high performance and reliability. Some typical applications include:
1.Long-distance Data Transmission: The 500 540 Trunk Coaxial Cable is integral to telecommunications networks requiring data transmission over extended distances. Its low attenuation and high signal integrity make it vital for ensuring that data signals reach their destination without significant loss, guaranteeing reliable communication between distant points within the network.
2.Cable Television (CATV) Networks: Within CATV networks, the 500 540 Trunk Coaxial Cable plays a crucial role in transmitting high-frequency signals. Its ability to carry a wide range of frequencies ensures that cable television subscribers receive clear, high-quality broadcasts, enhancing the overall viewing experience.
3.Internet Service Providers (ISPs): ISPs rely on the 500 540 Trunk Coaxial Cable, particularly in areas where the deployment of fiber optic infrastructure is impractical or cost-prohibitive. By utilizing this cable, ISPs can deliver high-speed internet services to residential and commercial customers efficiently and consistently.
4.Satellite Communications: In satellite communication systems, the 500 540 Trunk Coaxial Cable is utilized for transmitting signals between ground stations and satellites. Its high-frequency capabilities enable seamless communication, facilitating various applications such as television broadcasting, weather monitoring, and military communications.
5.Cellular Networks: Coaxial cables are fundamental components in cellular networks, connecting antennas and base stations. The 500 540 Trunk Coaxial Cable ensures efficient signal transmission, enabling mobile network operators to provide uninterrupted voice and data services to users within a specific coverage area.
6.Fiber Optic Network Backhaul: Coaxial cables are deployed in the backhaul networks of fiber optic systems, linking cell towers and other communication infrastructure to the core network. In these applications, the cable facilitates the efficient transmission of data between remote cell sites and central network facilities, supporting the overall functionality of the fiber optic network.
7.Radio Frequency (RF) Transmission: The cable finds extensive use in RF applications, including radio broadcasting and radar systems. Its high-frequency handling capacity allows for the transmission of radio signals with exceptional clarity, making it essential for broadcasting stations and radar installations that require precise and reliable signal transmission.
8.Security Systems: Coaxial cables are employed in security and surveillance systems to transmit video signals from cameras to recording devices or monitors. The 500 540 Trunk Coaxial Cable ensures high-quality video transmission, enabling effective monitoring and surveillance in various settings, including businesses, public spaces, and critical infrastructure facilities.
9.Ethernet Over Coax (EoC) Applications: Coaxial cables are used in Ethernet over Coax applications, where existing coaxial cable infrastructure is leveraged to extend Ethernet networks. This approach allows businesses and organizations to upgrade their network capabilities without the need for extensive rewiring, providing a cost-effective solution for network expansion.
10.Broadcasting: Broadcasting stations utilize coaxial cables to transmit audio and video signals from studios to transmission towers. The 500 540 Trunk Coaxial Cable ensures the seamless delivery of broadcast content, enabling television and radio stations to reach their audience with high-quality programming.
11.Military Communication Systems: Coaxial cables are integral to military communication systems, where secure and reliable data transmission is paramount. These cables are utilized in various military applications, including command and control systems, surveillance, and tactical communication, ensuring that critical information is transmitted accurately and securely in military operations.
12.Public Safety Communication Networks: Coaxial cables are employed in public safety communication systems, such as police, fire, and emergency services networks. These cables support the transmission of data and voice signals, enabling first responders to communicate effectively and coordinate their efforts during emergencies, natural disasters, and other critical situations.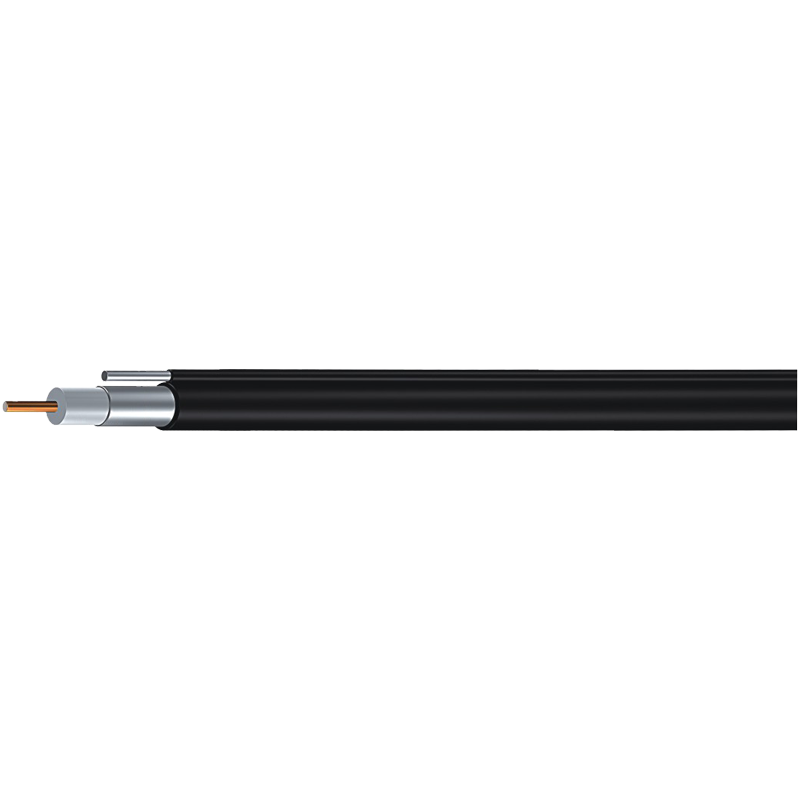 Center Conductor Bond to Dielectric ≥267N
Messenger Minimum Break Strength: 816kgf
Minimum Bending Radius: 15.2cm
Maximum Pulling Tension: 136kgf
Operating Temperature: -55°C~ 85°C